6 Simple Kitchen Updates I Did Before Listing My House for Sale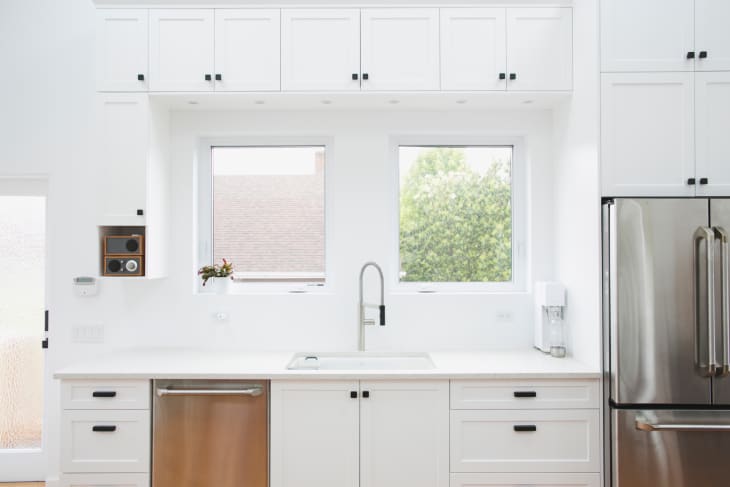 When my husband and I were about to list our house, I asked my real estate agent about the best kitchen upgrades to make before selling. His traditional response of painting the walls and tidying up left me feeling underwhelmed.
It's been proven time and time again that updated kitchens and bathrooms help improve a home's value — and can contribute to it selling faster. According to Zillow, a minor kitchen remodel can yield an 81 percent return on investment. 
Since my husband and I wanted to list our home in a matter of weeks and didn't have the budget to remodel the kitchen, we chose to do some smaller but very noticeable kitchen updates instead. Here's what we focused on that paid off and really caught buyers' attention when selling our home. 
A Fresh Cabinet Paint Job
Repainting our kitchen cabinets was a must. They were white and were starting to look pretty worn. Just wiping off the food and grease stains from cooking was not enough. So we purchased a can of white paint from Home Depot and gave them a complete makeover. The difference was day and night. 
If you're feeling creative or really want to give your kitchen a fresh look, you can even change the paint color entirely or try the two-tone kitchen cabinet trend. 
Changing out the cabinet hardware was a small and easy job that made a noticeable difference. You can find cheap yet sturdy kitchen cabinet hardware on Amazon or at any home improvement store. Then, it's just a matter of taking measurements and installing them. Our kitchen cabinet hardware, along with the fresh coat of paint, made the room look more modern and upscale despite our home being more than 50 years old.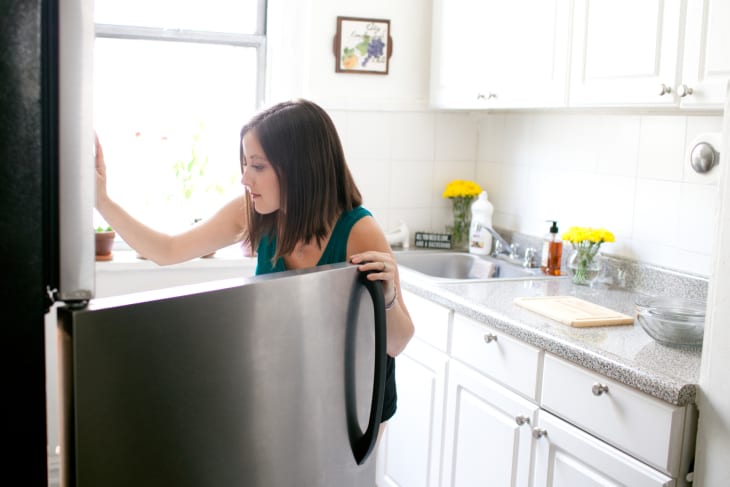 Since our kitchen had mismatched appliances, we knew we wanted to upgrade everything to stainless steel. We purchased a refrigerator and over-the-range microwave. Matching appliances weren't a requirement in my opinion but rather a nice gesture for the future buyers so they wouldn't have to worry about doing it. Plus, I think it contributed to the overall updated look of the kitchen rather than taking away from it.
A new faucet wasn't a planned update, but we had a plumber do some work on our sink and we found out we'd need one. So, I figured why not make the most of it and get something that was both stylish and easy to use? I went with a modern-looking faucet with a tall spout.
If the lighting in your kitchen seems dim, consider adding a new light fixture to freshen up the appearance of the room. Home Depot and Lowes have some beautiful and reasonably priced lights. Depending on the fixture and the lightbulbs it needs, you could even decrease energy consumption with this quick change as well. 
After four years of living in my home, the one thing I didn't like about my kitchen was the limited counter space. Whenever I'd cook dinner and have multiple things going at once, I almost always ran out of space to put things down — and it was frustrating.
I purchased a movable kitchen island from Amazon about a year before listing our home and tried to match the color of the island with my kitchen counters as best as I could. This was helpful in terms of prepping and just having extra storage. 
The kitchen island was also a huge hit during showings. I always kept it clear with nothing but a vase of fresh flowers on top. Realtors started placing their cards on the island after showings and I imagine it was a central place to briefly discuss the home with their clients before heading out. 
The island didn't fit the style of kitchen we have at our new house, so we put it out on the curb during moving day. However, the new buyers loved it so much that they grabbed it and placed it back in the home during their final walkthrough. 
At less than $500, these updates were worth it.
Not everyone can afford to remodel their kitchen, especially if you're trying to sell your home anyway. Making a few small but meaningful updates could leave a lasting impression on real estate agents and their clients. Overall, we spent less than $500 updating our kitchen minus the new appliances from Home Depot, which totaled around $1,200.
Even decluttering and staging your kitchen can be a great start. So roll up your sleeves, clear the counters, and see what you can accomplish on a budget.